I've updated the audio file with the dynamic range expanded to 0 db. The loudest part, which was as much as 10 db above 0, just after 6:27 was clip repaired manually (each sample hand drawn) to minimiize pumping effects of compression. I'm including a lossless FLAC file for downloading, too.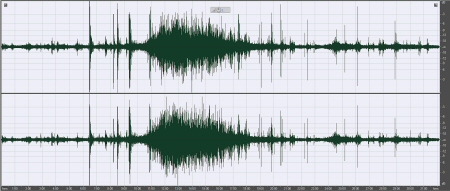 Thunderstorm in Seattle 8-12-2015 waveform – peak level 0 db
Below is the original post.
Direct mp3 download or play:  Thunderstorm 8-12-2015
Here is my recording of a thunderstorm in Seattle on August 12th, 2015. This is probably the best recording of thunder I've ever made. What makes this one particularly good is a distinct beginning, middle, and end. It starts slow with ambiance, then several close lightning strikes with sharply loud thunder, followed by heavy rain. The rain tapers, thunder becomes more distant, and the storm ends with more ambient noises. Some of the sounds were from inside my house, such as dishes being washed and other kitchen clatter.
The recording was made using my Sony PCM-D50 recorder placed on a microphone stand, facing out from the sliding glass door in my living room. The built-in condenser microphones were adjusted to 120 degrees, wide stereo. I put a thin layer of tissue paper over the front of the recorder to minimize wind noise.
There is clipping and dynamic range compression effects on some of the loudest audio. If I had allowed for the maximum amount of dynamic range with no clipping, the lowest level of audio would have been almost too quiet. Of course this is my own opinion. Feel free to disagree!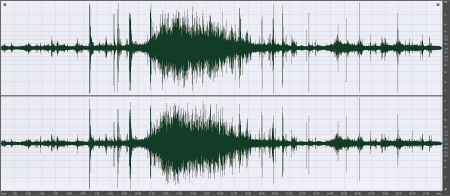 Thunderstorm in Seattle 8-12-2015 waveform – peak level -.29db